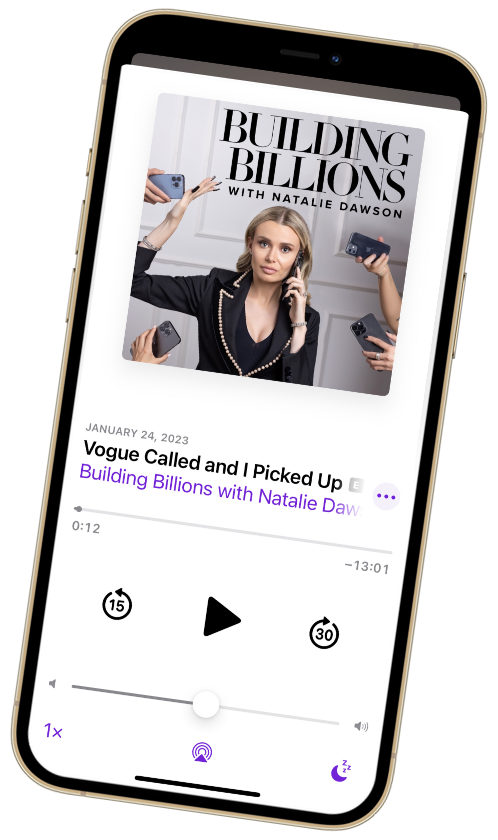 The Road to Billions Starts Here
Ever wondered what it actually takes to build a profitable, billion-dollar business, with a high-performing team, and a scalable model? Natalie Dawson does. And she's showing you exactly how she's doing it.
In Building Billions with Natalie Dawson, she takes you behind the scenes of the grind, mentality, strategies, and processes it takes to grow a BILLION dollar business. This is the raw, unfiltered truth behind what it's actually like to go from making $0 to $125 million in revenue in just 48 months, and the hard road it takes to get to multi-BILLIONS of dollars in revenue.
Legacies are not built overnight, but with the right team, mindset, and conditions, it can be done. Be sure to join Natalie and her team as she gives you a sneak peek behind the curtain in Building Billions.
I'm Building Billions and So Should You!
My Billion $$$ Networking Secrets
Let's build an unbreakable business that makes billions
How to Master a Work Life Balance
Three Reasons I Cried Last Week at Work
You're Holding Yourself Back with Beliefs That Serve You
If you're loving WorkWoman, we would love for you to rate and review!
Do you have any questions or topics you'd like us to cover on the show? Fill out the form submission and tune in to see if your question gets answered!
"*" indicates required fields
Subscribe to WorkWoman and never miss an episode!